By Mandelman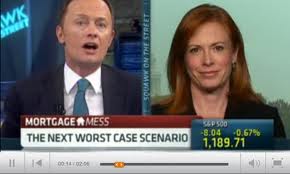 CNBC's Diana Olick says the downturn in home sales is worse than expected. I'm guessing she means worse than she and the cheerleading squad at CNBC expected, I'm not really sure… but it can't be me she's talking about, because the numbers today are nowhere near as bad as I expect them to get in the months ahead.
But, perhaps the more important point is that when Diana and I agree on anything… I'd have to say, bet on it.
I'm sorry, but I'm starting to like watching Diana. I never liked her when she was trying to gain an understanding of the foreclosure crisis, mostly because she's a flagrant elitist, but she's totally fun to watch talk about housing on CNBC because she seems to try so hard to deliver a balanced story, and she gets some things really right… but then every so often she turns a corner and attributes the wrong cause to the effect… and it's a hoot, that's all.
Like, this time out she's right to say the housing market has real problems, but then she blames it on things like needing more new construction… she says we are "woefully low on the housing starts," which almost made me spit out my coffee. And she blames the downturn on the lack of first-time buyers, which she claims are only 28 percent of buyers and should be 40 percent. I don't know why I've changed my attitude about her, but for whatever reason I now find her adorable when she says things like that.
The only problems with what she's saying is that: 1. The last thing we need now is new construction, in fact, that is the worst way I can think of to fix the low inventory problem. 2. First time buyers are not supposed to be 40 percent of today's market, and I'll be pleasantly surprised to find out they are 28 percent these days, unless their aggregate numbers are abysmally low.
Diana doesn't say enough about homeowners being underwater, but she does talk about credit being a big part of the problem.
"While home prices in California, and across the nation, are still well below their peaks of the housing boom, there is a major difference for home buyers today: credit. Mortgage rates may be lower on the 30 year fixed, but that wasn't the product used during the boom. …read more