By Mandelman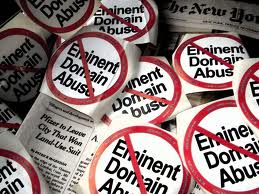 This past November, I read The New York Times article, "More Cities Consider Using Eminent Domain to Halt Foreclosures," but it took more than a month for me to realize what the story had to do with what I'd been seeing reported almost non-stop about our housing markets of late.
As strategies go, it's really quite brilliant and very well executed. If those behind it would only put the same kind of thought and effort into solving the foreclosure crisis, we'd never see another Notice of Default or Intent to Foreclose notice in the mail.
Despite some very nasty threats of retaliation from Wall Street and Washington, something like two dozen new cities are now reportedly joining the efforts to potentially head off home foreclosures by using eminent domain to seize mortgages and write them down for homeowners.
Richmond, California was the first to make serious overtures related to the use of eminent domain to take over an initial 600 underwater mortgages in order to prevent foreclosure, blight and property values that continue to fall. Now, Irvington, N.J. is also said to be proceeding with a study of the plan… the city is thinking that if the program is effective, it could help save 500 to 1,000 homes.
Yonkers, just up the Hudson River from New York City, is also talking about adopting a resolution to consider using eminent domain, as is Newark, New Jersey. And in California, Oakland and Pomona are discussing the use of eminent domain, as well… and let's not forget Seattle, Washington.
Robert Hockett, a Cornell University law professor who has helped design the strategy, along with venture capital firm Mortgage Resolution Partners, is consulting with numerous cities around the country. He says he's also been contacted recently by cities in Minnesota and Pennsylvania.
San Bernardino County in California and North Las Vegas both considered the eminent domain plan last year, but were ultimately dissuaded by threats of financial retaliation from Wall Street and Washington.
But that sort of tactic has only brought the American Civil Liberties Union into the fight on the side of New Jersey's cities… and on December 6th, the American Civil Liberties Union and the Center for Popular Democracy have filed a Freedom of Information Act lawsuit against the Federal Housing Finance Agency for failing to respond to their request for information.
I'd have to guess that more heavy-handed threats are only …read more